Contact
Contact address:
Miroslav Mikel - AUTODOPRAVA
Háje 327
760 01 Zlín – Kudlov CZ
IČO: 14640741
VAT reg. number: CZ5912270749
Head office:
Miroslav Mikel - AUTODOPRAVA
Březůvky 226
763 45 Březůvky
Phone: +420 577 982 140
Fax: +420 577 982 142
E-mail:
info@mikel-autodoprava.cz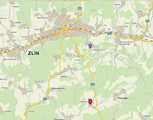 Services
Carrying out transport
International transport in the EU and domestic transport
States of Western Europe especially Great Britain and lands of Benelux
Consignments for more recipients
Transport of dangerous goods ADR (out of class 1 a 7)
Units of 95 m3
Maximum weight to load is 24 t
Tautlinner - curtains trailers (possibility to make load by crane)
International and domestic forwarding
Transport according commodity of goods
Industrial goods
Iron and steel products
Food
Car industry
Liability insurance of a road carrier for damages in domestic and international transport covers damages of up to CZK 10,000,000. This insurance applies to transport with Miroslav Mikel - AUTODOPRAVA vehicles as well as to vehicles of contractual sub-carriers.